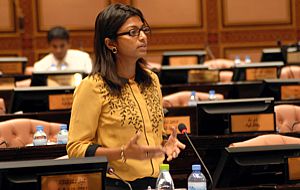 IPU is deeply concerned by the death threats against Eva Abdullah (above) and seven other Maldivian opposition MPs. ©Parliament of Maldives
The Inter-Parliamentary Union (IPU) has called for a speedy and effective investigation into the death threats made in recent days against eight Maldivian opposition MPs and is urging the authorities to guarantee full protection of all parliamentarians' physical integrity.
IPU´s statement comes after two death threats were simultaneously sent by text message to prominent members of the Maldivian Democratic Party (MDP), Deputy Speaker of the People´s Majlis, Moosa Manik, and former Speaker Abdulla Shahid, as well as Maria Didi, Rozeyna Adam, Eva Abdullah, Imthiyaz Fahmy, Ali Azim and Ibrahim Mohamed Solih.
IPU is deeply concerned by these acts of intimidation against MPs in a country where many parliamentarians have been victims of attacks, harassment and arbitrary arrests in recent years.

IPU Secretary General Martin Chungong said "ensuring that every member of parliament can speak their mind freely without fear of reprisal is essential to democracy. There can be no excuse for violent extremism and impunity. The authorities must act with the necessary resolve to bring the culprits to justice."
In recent years, IPU has been actively engaged with the People's Majlis to strengthen democracy in the Maldives and protect MPs in the exercise of their functions.
Secretary General Chungong stressed that "the authorities' response to the threats and their capacity to promote, with the help of the opposition, real inclusiveness and political dialogue will be a litmus test for the democratic process in the Maldives."
"I call on all those concerned to bear this in mind and I reiterate the IPU's continued readiness to provide any assistance to help genuine efforts in this regard succeed," he added.