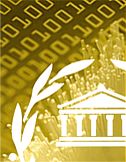 ---
---
PARLINE database:
"Electoral system" module
The Electoral system module includes information about the number of constituencies, the type of voting system, the requirements for candidates and voters, and various other details of the electoral law.

Use the Modules pages to view and export data for selected fields and selected countries. In this way, it is possible to compare various aspects of the different parliamentary systems.


Important note for our correspondents in national parliaments:
Should information concerning your parliament be inaccurate, outdated or be missing altogether from the PARLINE database, please contact the IPU Secretariat at .